The Wind's Shadows
July 31, 2016
I'm from the "Windy City" or so I say.
A half-hour drive away but close enough
to be eclipsed by the shadows of its skyscrapers.
Or perhaps we are the city's shadow at sunrise
when the light creates elongated shades.
Their hardcore gangsters are cast as our teens
who inhale bubblegum-flavored smoke,
which burns from the pockets of Northshore money.
We have a metallic bean as well but in the form
of a senile cueball with milky eyes.
He watches kids with umbilical cords for fingers,
pumping phones their individuality.
Lake Michigan is our lily-padded pond
around which midlife women gossip over Bluetooth
while pushing their precious peaches in strollers.
They are innocent to the spoiled fate that awaits.
Yet, I'm a silhouette too, of busybodies
rushing urban streets. In the early afternoon,
when shadows disappear, I'll creep into the city.
Attaché case in hand, perhaps an office suite.
But the setting sun will pull me back to darkness
once again, but I'll plead no complaints
because it's inevitable, the suburban cycle.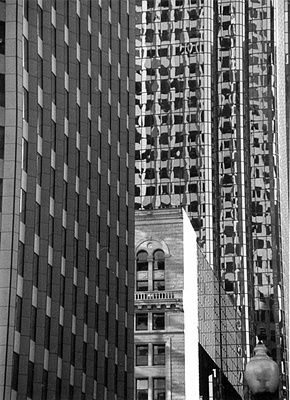 © Natalie D.,Marblehead, MA