Six Weeks
July 1, 2016
Before I knew how to accept that life is not, and never will be, fair,
I used to want to die.
Not really die though, just stop existing.
Like, I wouldn't jump off a bridge to find peace in the water,
or watch blood spurt from my wrists.
But if something were to happen,
a freak accident perhaps, 
if something were to cause me to hit my head,
or if a car were to spin uncontrollably towards me,
I wouldn't scream or run.
I'd probably cry though,
just to give a reaction.
Everyone seems to be suffering much worse than me,
with illnesses, stress, pressure, and crime.
I know I'm being a drama queen,
and selfish,
only thinking of myself.
I feel the guilt of my self absorbed thoughts.
I'm sorry for them.
I haven't felt it as much though, in the last six weeks,
I stopped talking to a lot of people,
fought with more.
Just... distanced myself.
Being alone is better in some ways,
worse in more.
"I'm fine really."
"No, you're not."
"I am. You just worry too much."
I want to tell you, I do, but I don't want to risk losing you so early.
I know you'll be leaving soon anyways.
Not leaving here, just me.
Six weeks seems so long ago,
but time just creeps up on me.
It crawls until you look away -
then it runs.
"Wow, you're so moody today!"
The words hurt.
But I can't snap out of it.
I miss some people too.
Though they are really right beside me.
We're just not close anymore.
I can't fix it.
I can't fix myself.
I guess I was meant to be alone.
I hope I get another six weeks.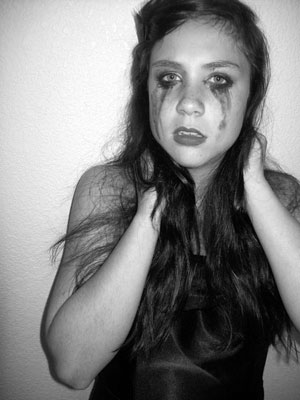 © Tiana D., Monument, CO