Realization
May 30, 2016
7th grade.
News.
My teacher.
Abused.

It was a news article I never wanted to see.
It stared me in the face like a demon,
It was right there,
Watching me,
Intimidating me.
I felt a pang of regret.
I was there, I was her student.
I never knew.
I never knew.
As my new teacher says,
"You don't know what you don't know."
And I didn't know.
I couldn't have possibly known.
But somehow I wish I had.
I wish I had known about it.
That I could hug her more.
Make her feel better.
Make her feel welcome.
Appreciated.
But I didn't.
Not as much as I should've.
I treated her like a normal teacher.
That was what she wanted to be.
She was in the hospital.
Apparently, there were bruises all over,
Her face.
I can't imagine it.
Having the whole world know.
Having the whole world know that you sat there in silence.
Her face will never be the same again,
They say.
8th grade.
Discussing a book
Costume day.
Talking about you.

We were talking about it.
In English class.
We talk about deep subjects,
It's important.
I raised my hand.
"I knew someone who was
… domestically… abused…"
Then I stopped.
And it hit me.
The domestic abuse part
Hit me.
I finally got it.
I finally understood.
Most times, when something bad happens,
I tell my mind, Don't think about it too hard.
Or maybe my mind tells me.
It's hard to tell anymore.
But now…
I felt the full weight of those two words.
Domestic.
Abuse.
I stopped before I finished my thought,
and sat there,
Silently.
I don't know if my teacher noticed or not,
That I couldn't go on.
Tears welled up in my eyes as she called on someone else.
I sat there, playing with my paper fan.
Open. Abuse.
Close. Pain.
Open. Hospital.
Close. Student.
Open. Hidden.
Maybe a fan was a good analogy.
It had so much depth,
And ability.
But once you closed it, you only saw a fine line.
You don't see the whole thing.
Gravity can play tricks on you.
Some days, you feel as light as a feather.
Other days, you feel heavy as a brick,
as if your very feet
Are melting to the ground.
Making your movements slow
And each step is almost painful.
Then the questions began.
Were all those smiles fake?
Posed?
How did she stay silent?
Quiet?
How did she hide?
Concealed?
Did it happen more than once?
Repetitive?
How did she stay happy?
Cheerful?
Could I have helped?
Comforted?
The tears faded.
They didn't fall down my cheek.
There are many forms of sadness,
And this form was the one where you felt like a pumpkin.
You may be smiling,
Or you may be in a happy pose,
But it's forced, and you're actually empty inside.
And I sat there in my Star Trek costume,
Wishing that I could fly away.
Away from all of the mess in this world,
To travel to new ones and repair them,
Even though I knew I could never repair my home planet.
To travel, to trust, to experience,
And I would take her with me,
On all of my adventures,
On all of my journeys
On all of my happiness.
So I sat there,
Hoping.
Wishing.
That my fantasy could come true.
And I wondered:
Is that what she thought too?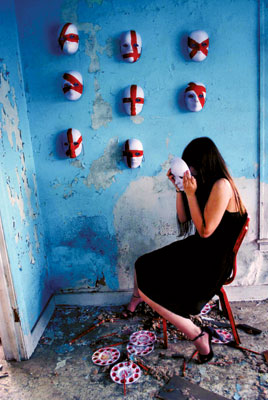 © Narongsukchai T., Sachse, TX