Only Felt
MAG
November 12, 2015
Courage is one of the many words with multiple definitions depending on the person.
It is also one of the many words
that cannot be described by its definition.
Ask anyone, does not matter who.
Through her eyes
courage is overcoming the pain of her past,
her present, and her future.
Courage through his eyes
is standing tall despite being outnumbered,
despite being hurt by those around him,
despite being lied to by those he thought cared.
Yet courage in my life
has been rare, life-changing experiences
burnt into my memories for me to see
over and over again.
To ask me what courage is
is to ask for the stories of
a son sitting by his father on his death bed,
holding his hand through his father's pain and the prick of the tears building behind his own eyes.
A mother protecting her children from the only family she has ever known,
by cutting off her mother and father in all aspects of her life.
A child comprehending that what her mind has forced her to do to cope with her fears
are just pieces of her life she must accept.
No matter the pain, the fear, the confusion
every memory of courage through my eyes has been something a few words in a book
could never fully show me.
Courage is something that can only be seen,
not written in books,
not demonstrated through an example in literature.
It can only been seen, felt, known,
to be true courage.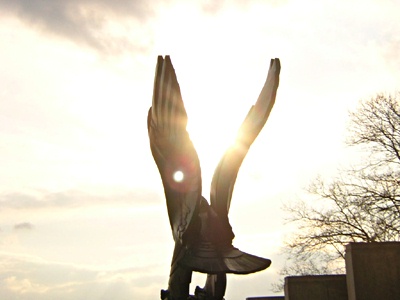 © Brittan S., Claremont, CA