Stage Lights Low
MAG
July 21, 2015
Backs against rough cement
rubbing away from the stone in bent-folder creases
eyes and skin dimmed in the darkness
a maestro's pit without an orchestra,
and your hand draws a violinist's bow
across my own
runs pianist fingers through my hair
a melody of soft and stable fifths and stacked chords
like felt hats on a table.
Conductor's voice raises his hands in an arc
signaling a glorious pause
and you hold me in a fermata, crescendo
of breath
and he leans forward to catch my lips with his, a parametric curve
pulling me closer at gaining speed as
seconds pass
and moments you wish you could freeze
don't reach critical mass.
Notes are floating, resting on my eardrums
and plucking my heartstrings
I fell ice-skating
the year before I met you. Did
you know?
I hit the ice and saw my face reflected in it and there was something yet to be there.
The river was frozen until spring, when it thawed and the fish jumped for the clouds
and in the morning the clouds lowered to meet them in a fog, just close enough to brush with scaled fins or gloved fingers
wafting in and out of vision.
If I was a river, I would white-water raft myself away.
If I were of stone, I would bend into an unbreakably porous statue.
If I were of anything, nothing would ever see me again.
If I was a river, I'd run to you
for surely
this is all
that bliss is.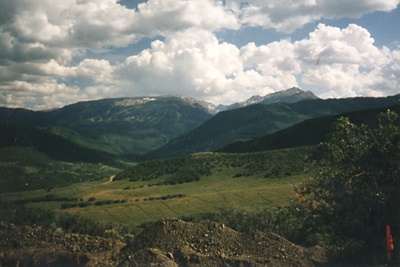 © Photo by Michael B., Denham Springs, LA