Love is …
MAG
April 7, 2015
Love is a slippery chair.
It's one that spins all on its own.
Through that swirling blur faces grin at me,
And they whisper sweet bass-note nothings,
And their breaths smell of poppy petals.
Few come close, but their lips brush mine, soft.
And the seeping emotions fall unfamiliar
on my tongue.
And it tastes like wintry air when frost
coats my lawn.
Ben Gibbard sings to me from somewhere; he's in the waiting room,
The hospital so close to home.
He's not singing to me.
I've walked barefoot in the snow,
watched my toes turn red and then
to bruises.
And I don't do it to be edgy or emo,
although my feet do bleed. I just want
to walk on water.
My legs are short so I walk slowly.
"You're walking on eggshells, darling."
Happiness is a breaking eggshell.
And when they break we drown in joy.
And in that moment between breaking
and drowning,
I focus on my mind and how it was before,
and I bring it back to me.
Back on the eggshell.
Kitty knows she can't do that.
She knows she can't fix the broken and
can't help but drown.
I will be drowning in my joys, I know.
And I will feel warm.
And I won't hear him sing.
And all I'll see is the face that taught me
love is a slippery chair.
And I'll see the face that keeps me
from falling.
And I'll feel a burning cloud.
Love and happiness are not the same.
I can be happy drowning but I can't love it.
I can love the spinning,
But not be happy with it.
"A rich heart
In a poor coat."
The lampshade told me that,
Grinning at me.
My feet are bleeding, and the chair,
I'm still dizzy.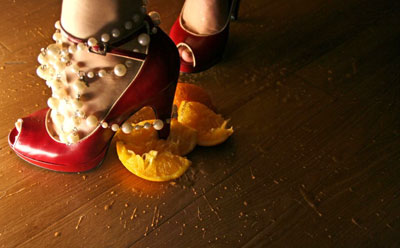 © Amber L., Carpinteria, CA