To My Sister: (A Slam Poem)
January 20, 2015
To my sister:
You cling to me,
curling my hair in your sticky palms,
eyes glued to the TV,
we are watching Mulan for the third time this week and you say,
"Reesie, I want to be like that."
and all I say is
"you should, babygirl."
And then credits roll and we go play dress up and you clank around in shoes a size too big so
you can stand a little taller and you say
'All hail the queen!"
and whirl a spatula around and hex the dog who is not unfamiliar with this game.
Your world
is in these four walls and  your greatest concern is whether to pick
a cherry or blue raspberry Ring Pop. Pop,
buzz, bang, these are onomatopoeias,
onomatopoeias, as the dictionary defines them,
are words that sound like sounds,
you haven't learned this yet,
Bubblegum pop, static buzz, drum bang. Bang. Bang.
Here's something else you should know, people do not go bang.
So when a guy says he wants to bang.
Stand up and walk away,
tell him you don't bang.
Tell him you speak tell him you're not a drum,
he can't tap you, he can't bang you.
Oh, babygirl, please listen to me,
trust me I know.
If he loves you, he will not act upon you,
he will act with you.
If you let him act upon you,
if you let him press his weight down,
he is the  only one who has the means to walk away.
And when you're pinned down like that it's impossible to stand, you're forced to sit for things you stand for.
When he whispers in your ear how
you'd make the hottest chemist he ever saw
except the only hot thing in his general vicinity
is the the bunsen burner
or when he calls you a babe but
youre already as tall as you're gonna get,
you have to try not to vomit Cleopatra or Susan B. Anthony
or Eleanor Roosevelt or your mother's words all over him.
Because then he will be disgusted by you and he will leave,
and the last thing you want him to do is leave.
It's storytime and I close the last page of a picture book about a pig
and I roll on my side so I can see  your face,
so fresh, cheeks indefinitely rosy,
your Shirley Temple ringlets are getting longer now,
they kiss your eyelashes when they fall, and you say,
"Reesie, you are beautiful," and I laugh.
Half because you are two and I don't know how that word is in your vocabulary,
half because it's been a while since I've heard that and I'm not sure how to react.
And the worst part of this is the week before,
I had kissed a boy in spring's pale moonlight.
never kiss a boy who doesn't think your beautiful, it ruins it.
When he just calls you sexy or a hot piece of a** t feels good for a minute,
but two weeks after, the imprint  of the minty kiss becomes sour
and you start to tell yourself 
maybe he was just afraid, maybe he felt it too.
Never kiss a boy who's not your boyfriend,
because then you won't get the same feeling in your stomach the other girls get
when they talk about their first kiss,
nothing will be nervous in the good way,
nothing will be sparkly,
it'll be loud and fast and he'll only ever call you sexy and thats
not really want you wanna hear.
And then when he meets someone he thinks is really beautiful,
the moonlight will be snatched from your memory,
as he will bring her the moon,
and you will start to turn to glass.
You might even bronze over, become a trophy,
or melt into concrete, become a stone.
Whatever he prefers to hold you as when telling the story
of meeting the beautiful girl.
Oh, babygirl, you're too good to be a page,
find someone who wants to make you a novel.
Don't be me, don't frame your pages and one lines,
documents of your awkward fragile encounters.
Find someone who will make you into a library. 
Sometimes I cry a little when Daddy holds you,
I try and find spots in my brain where I can see he loved me that much.
Where i can see him twirl me around like I weigh nothing.
But I am heavy. heavy.
You are light as a feather, babygirl, stay that way.
Don't let him bring you down.
And I know I just used a pronoun where there
should've been a proper noun, somebody's name. Name does not matter,
because I know you're reading this right now
and it didn't even occur to you
that I forgot a name.
You saw him there. The kid in the back of the class
who said you had nice boobs before you had any,
the boy who drove away
before the left of side of your body was out the car,
the one who told you
he used to love you but didn't anymore,
the man who was more a boy than he should've been,
faintly you will remember his salt and pepper laughter
as he spun you round the kitchen.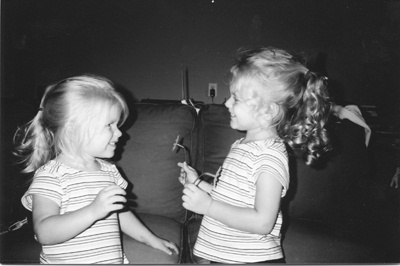 © Elizabeth S., Pompton Plains, NJ