The Dry Ice Heart
MAG
April 23, 2014
Locked deep inside four chambers,
Dark and cruel as an arctic billow,
She waits in silence and solitude, browbeat
By sheets of softly simmering snow.

A crimson maiden in distress,
Wearing a flimsy powder dress,
She beats her icy warmth into
The walls of her fleshy fortress
To vent her frustration.

She aches for a touch of intimacy
But breaks at the thought of opening
Herself to such vulnerability. She
Pulses with passion and fear, fighting
Day and night to build and break
The walls which imprison and protect her.

Call to her, she will giggle in return;
Swipe her strings with your bow, she
Will sing along – a tease with folded limbs.

But touch not the rosy flesh, bloodied,
Battered by years of routine beating –
Draw not your bow like a self-serving
Love god – your arrows cannot penetrate her
Defenses.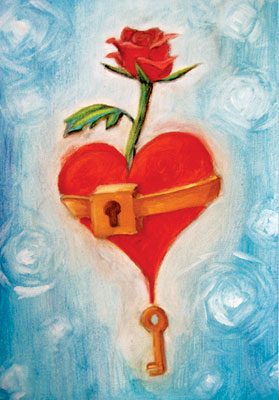 © Louisa L., Pleasanton, CA