Childhood
March 4, 2014
A young girl with pigtails that embrace ribbons hat match her little dress.
Her mom makes her clothing.
Her mom is alone and hardly sees her daughter while she works to keep a roof over their heads.
A girl whose father is dead.
"There has been a very horrible accident; you will no longer be seeing your father."
The girl would only later discover it was murder.
The girl gets bullied at school for no reason.
She's a pretty girl with long auburn hair, and big beautiful blue eyes with a tint of yellow.
She's smart and likes sports.
She's funny. Well she likes to think so.
But no one likes her.
And her daddy is gone.
She spends time in the backyard under a tree. She hides her art supplies in a bin underground and digs them up every day.
A young girl and her mother visiting the food bank every week right after the Salvation Army.
Mommy says she's not allowed a stuffed animal because of head lice but she's aloud a plastic toy.
Her mother wears shoes held together by duct tape because every last dollar is spent on the girl.
She tells her mother she thinks she has a sickness called sadness, like the characters on her game boy.
Everything's lost in a flood.
The basement was the child's play room.
But it's all gone.
She holds on to only a very few things from her childhood.
Only a few things left from dad, he had taken all he could when he left them.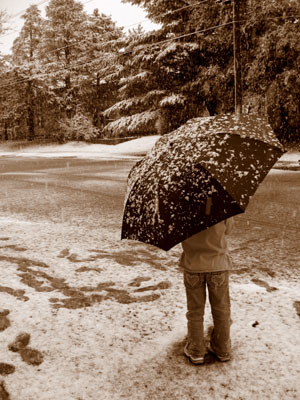 © Hui Y., Potsdam, NY