Masterpiece #1
January 31, 2014
Stop.
Look.
Listen.
The candlelight echoes.
The marble reviews itself.
There are many introductions but only one ending.
You very well could find yourself on the edge.
But are you completely sure?
Are you complacent with this?
The candle itself could be monstrous.
There is no guarantee that on the sill rests the answer.
An audible ticking can be perceived,
But is it really a clock?
Following this line of thinking could define much.
The heart beats ever onward,
Feeling its way out of excess.
Water may boil, but ripping paper will not fulfill anything.
And yet the wax drips down, down, down.
The eternal puzzle rests in my very eyes,
And I have no method of seeing.
Within every canyon lie hidden truths.
Within the very folds of space lies nothing.
Copious amounts of data work their way into systems known everywhere.
There is no greater challenge than the most minimalist task.
Perhaps shivering will produce great works,
But most likely no more.
Detritus is a landmark unto itself.
Feathers. Feathers. Feathers? Feathers. feathers.
Every following is destined for more.
Parades erupt in places most like trees.
Parades erupt in places; most like trees.
Thiry-seven is a number quintessential.
Just when it was thought,
It was discarded immediately and without thought.
Now madness this may seem,
But is it so?
Or is that just how you wish it to be?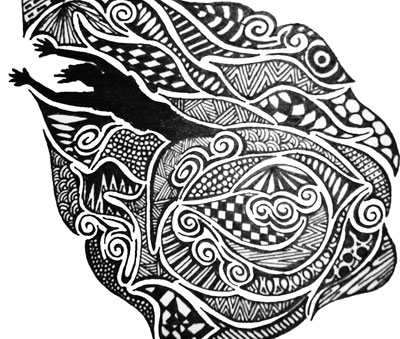 © Caroline B., Haworth, NJ