Kingdom of a Guarded Heart
October 13, 2013
A land of free spirit, mystery, and grace,
It is a wonderfully beautiful, magical place.
Valleys, mountains, rivers, and streams,
Everything is more than what it seems.
A place where cages don't exist and all is free.
When storms come through, you see,
Nothing is destroyed, only made stronger,
Evil in this world is around no longer,
A thousand roomed castle lies at its center.
This world, however, cannot be entered.
Understand, it's surrounded by walls so high,
They reach just below the sky,
Littering these walls is the spray paint,
Spelling out Lies, Betrayal, and Hurt which are just a few that taint.
Brick by brick, layer upon layer the walls are built
And hope of getting through is beginning to wilt.
The magnificent entrance doors are chained, locked, and boarded.
On either side two English guards have resided.
Many have tried and failed to get through,
So I bid good luck to you.
You would have to be a miracle, a true work of art
To enter the Kingdom of My Guarded Heart.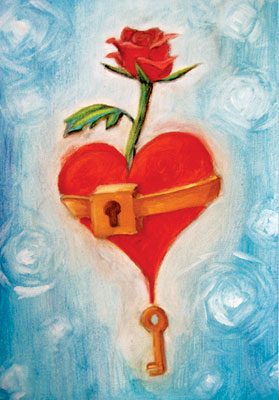 © Louisa L., Pleasanton, CA