These Four Years
September 14, 2013
To them,
Always a hard kiss
As brush pounds canvas
A person
And another
Always kiss.
Their basis for communication
Good morning, good night.

It took awhile to arrive
A world of determined individuals.
Despised fourth year cliques,
Gossiping at the tables. Standoffish.
Your steps
Reward you with suspicious looks.
But you are an artist,
Ignore.

The journey continues
Toward an atmosphere of sorrow
You don't know anyone.
A room cold with grief,
They meet and weep for the second of last.
You are not welcome.
But you are an artist,
Ignore.

Looking up at it from a distance
The smell of the new soup seduces you,
You think and gulp and swallow.
Death and birth and him
You mark where you fit
Wrong. It burns.
But you are an artist,
Ignore.

You stand bewildered.
A room warm with birth,
You smile to the foreigners.
They don't want you.
The glares strangle you.
Witches have been burned here.
But you are an artist,
Ignore.

Now you are nearly there.
Women were shattered on these butter knives,
Men stifled on this stage.
You offer respectful silence.
Because you are an artist,
You know will make it.

To you, an artist
Always a soft kiss
As brush caresses canvas
A person
And the art,
Persevere.
Always kiss.
Hello, goodbye.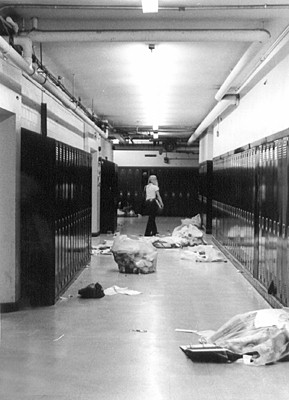 © Halsey S., Marblehead, MA