MAY DAYS
August 23, 2013
The textured pages of this book are blinding under the light of the sun

and the shadows of my hands break apart as I write, exposing paper like a hellish split in the earth

I find it funny how newly forbidden places, in their quiet ways, have more appeal

when they are quarantined than in their actual natural, boring beauty

(NOT A FOUR LEAFED CLOVER IN SIGHT)

The grass, plush and damp in all its might is rough beneath my feet.

I run my fingers through it in long strokes as I would through the slight hair of a weeping child.

The walls trap us here, solid as concrete

towering, studded with metal diamonds posed like brothers in arms, elbows linked mechanically

(BASES LOADED)

And there are boys all around, rowdy and tall in striped uniforms, navigating the maze;

i'm just a scribe, documenting thoughts, and they're out there beyond the fences, living a story.

The drummers in the marching band are ra-ta-tapping on the inside, over and over the cadence plays—

the political mantra in all its glory.

(down the hill the bass drums go dum de-dum, de-dum)

I've tried to speak, but my words were lost long ago in the crevice between emotion and expression

(I cry out! in aggression, for my own means of imperfection)

—and anyway, I was going to go somewhere else where i'm allowed, but the fields are much kinder, here.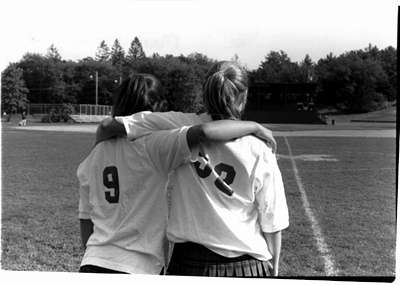 © Kelley C., Marblehead, MA