Earring
MAG
July 28, 2013
When the earring loosens and falls,
leaving only the backing clinging stickilyto her earlobe
(So appropriate, she thought, that only the crusty underside of things
remain while their gleaming facades always cleave),

it's not surprise but resolution she feels, as if the stone were a
hang nail that she worried and fretted
(oh sweet, triumphant pain
that comes along with ridding the body of its imperfections)
until it fell off

Into the portions she could no longer control:
the vast Hinterlands outside her little body (that was still hers!),
though merely a technicality considering the wanton thoughts that
roiled beneath the smooth surface and threatened to dissolve her,
like a sugar cube into tepid milk: white on white on white.

For now, she tended its manicured front lawns with feverish abandon,
drawing the shades to house and hide a certain lethargic houseguest stayed
long past his welcome, and too dangerous to let out.

No, it was not one of Dante's lurid circles of torments that she feared,
glowing crimson like the rings of a stovetop burner, but a creeping gray mist of
Lack Of

A cloying, numbing fog that anesthetized her and
slowed her heart to a minimal. sluggish. plod.
So that at dinner parties she coolly surveyed the menagerie of
flushed, frantic faces and thought:
I don't care if I ever see any of you again.

So when the earring that carried no
sentimental value
whatsoever
slipped from her velvety lobe, she strained
to comb the carpeted floor,
dropped to her knees
as if in
Prayer
or
Supplication.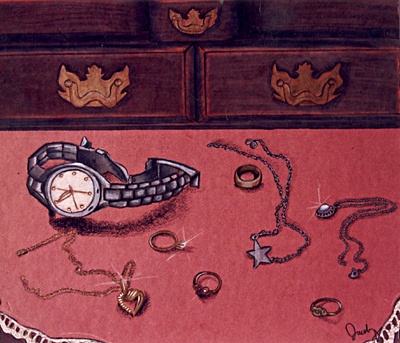 © Jacob S., Kannapolis, NC