Just a Little Shy
June 13, 2013
I make myself comfortable
In the stern blank room ---
Sit on a straight wooden chair
That cuts daggers into my back
As the man squinting behind the wide rimmed glasses
And the Tommy Hilfiger necktie
Peers at me
Professional and proper
As if I'm a specimen
under a microscope
To be questioned, observed, evaluated
So
A tap on the desk - tit tat tit tat
Hands neatly folded over stomach
So
Tell me about yourself---
I know forty digits of pi Forward and backward
Three point one four one nine two five six five…
I can multiply five digit numbers All inside my head
Try me.
And I can read a whole book - four hundred pages
In two hours. I read War and Peace - the whole thing - in fourth grade but I think that the Scarlet Letter is much better but not as beautifully written as The Republic
Time me.
I can name all of Tchaikovsky's concertos Piano and violin And all of his symphonies too - His fourth one is the best. Just ask me.
What else?

Whatdoyoudoinyourfreetimebesidesstudydoyouhaveanyextracurricularswhataboutfriends?
Words...pouring out like buckets of rain
Flooding myself the whole world over
Well you see sir ---
Choking on my words
Stuck in my throat
Swelling up and up
Well you see sir---
I'm just a little….
a little shy…
Sometimes I like to stay inside my room
And I'm not good with people, but that's
Okay I'm sure because -- isn't it?
Now sir you didn't have to
Escort me out of the room
And slam the door in my face
Twice
For dramatic effect
You didn't have to
Throw away my papers
Into the recycling bin
Even if it would
Save a few trees
I spent
Hours and hours perfecting them
Making sure each loop and swirl
Circled the page just right
And if everyone was special
Like they all say
Everyone is valued
In their own unique way
Then why is it so wrong
To be just…
...Just a little shy?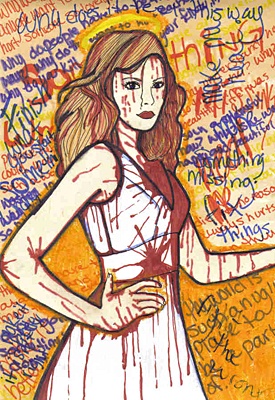 © Sara D., Aiken, SC