Invisible Angel
May 28, 2013
She's invisible but no one cares. Her silver wings disappear in mid air. Her sparkling gold halo fades away. Her smile; however, always stays. She helps out as much as possible. She is the invisible angel.

Her long flowing hair in the breeze, she lives for the heavens and answers all pleas. She is caring and has an honest heart. She is the invisible angel, oh so smart.

She saves lives daily in advance, she sings melodies, never forgets to dance. She whispers thoughtful ideas ear ear. She spreads happiness every day of every year.

Her smile reflects the glistening sun. Her eyes tell you the journey isn't done. She tells you that it isn't the end. When you are alone, she is your friend.

She is the invisible angel, as it's been announced. When she sees a person in need, she'll pounce. Always risking, always giving; just to make sure a stranger keeps living.

She has an amazing philosophy, one that the world may never see. Why? Because whenever someone feels like they are living through hell... poof! She becomes the invisible angel!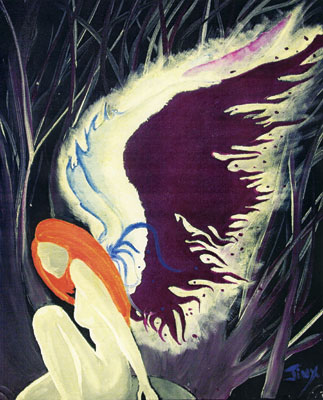 © Megan B., Youngstown, OH