Calm Down
May 11, 2013
My heart starts beating like it never has before,
But I haven't been running at all—
It's a heart-attack;
I'm dying, I'm dying!
I swear I can't take much more.

My palms are sweaty, my hands trembling so badly,
But the temperature isn't that high.
It must be heat exhaustion—
Stop shaking, stop shaking!
Nausea devours my stomach quite madly.

My head spins dizzily and I'm feeling faint,
But I was fine just a few minutes ago.
"You're just overreacting,"
They're saying, they're saying.
"Try to show some self-restraint!"

Everything, everything's spinning out of being self-controlled,
My mind, my life, even my control.
I'm going insane—
Help me, help me!
I desperately need to be consoled.

Air isn't reaching me anymore,
But I'm not underwater.
Someone must be choking me—
It's no one, it's no one!
I try to speak but who can I call for?

It's like I'm out of gas in my car,
Stuck on the railroad tracks and can't move.
There's a train coming now—
Won't stop, won't stop!
And it seems like death isn't far.

I'm just here in my room though,
And there's no car or train.
Just a panic-attack—
What for, what for?
No real reason; my body just said so.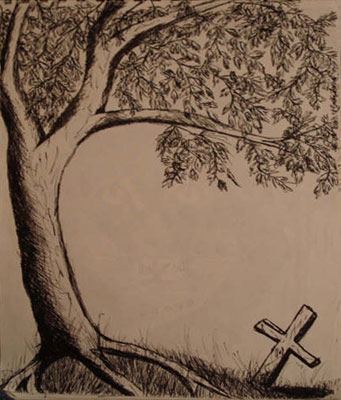 © Courtney K., Bethel Park, PA