Save Me, Kelsie
April 13, 2013
"Just one more," he said, "JUST ONE MORE!"
He said after he collapsed on the kitchen floor.
His mind went blank, he began to stare.
Everything disappeared, their was nothing anywhere!

He couldn't focus, he couldn't think straight.
His mother thought it could have been something he ate.
But his friend Kelsie knew there was more.
This wasn't the first time he was on the kitchen floor.

"I need it!" he says, "Give it to me!"
But she can't help but wonder how long it will be.
His mother drove him to the emergency room.
While Kelsie sat there and indulged in her gloom.

It was depressing to see Michael go through so much!
He had been abused and hurt, sad to the touch.
But she had to help him, but one little word.
Could cause her best friend so much hurt.

So she kept her mouth shut every time.
She felt guilty for saving him, guilty for the crime.
But she had to help him overcome his addiction.
There had to be a way to get him off his prescription.

He couldn't make it though, Kelsie couldn't do it alone.
But he was desperate and with every groan
when she refused to give it to him, her guilt increased.
But she couldn't live with herself if Michael was deceased.

So she went to the principal begging for aid.
Without proof though, the principal stayed.
So Kelsie moved on, did this all by herself.
She gave up his secret to fight for himself.

She went to the hospital and sat in the chair.
"Michael, we need to talk, you need some more care."
"Kelsie, I'm trying, but I won't make it through."
"Try Michael, I am here for you."

"I'm weak, Kelsie, I'm no longer strong.
I have been popping pills for far too long.
I can't control it, I'm living for you.
Kelsie tell me what I need to do."

"Michael, you're okay, you will survive.
Quit cold turkey, I'll help you, you'll strive.
Make the last pill your last, there will be no more.
I can't stand to see you on the kitchen floor."

"Kelsie, this is serious, I will not live.
There's so much tears that I did give.
It's worse than pills Kelsie, I have a disorder.
I'm deprived of happiness, a sadness hoarder."

"Michael, I threw all of the pills away.
You will get stronger, day by day.
You'll keep your voice, you'll be able to speak.
You'll be happy one day, you won't be too weak."

"Kelsie, save me. I know I am dying.
I will stop the pills but how long am I trying?
It's hard Kelsie, it's hard. I want to give in.
Is my life worth it? I can't raise my chin."

"Michael I'll save you. That's a promise of my heart.
I don't know the next steps, but this is a start.
You'll make it Michael, you'll make it. You're oh so brave.
You will no longer need all of the pills that you crave."

"I'm tired of everything Kelsie, I'm tired of crying.
I'm tired of popping. Kelsie, I'm dying.
The next time it won't be the kitchen floor.
The next time I will be no more."

"Don't think like that! Stop it! I can't take you're depression.
I will help you! I will save you from your addiction!
You will be free, you'll be safe, not on the kitchen floor.
Michael! It's you I am living for!!!"

He looked at her and smiled, the first smile in weeks.
His throat was hoarse and he could barely speak.
His next words meant more than anything on Earth.
It was these words that brought Michael's life worth.

"Kelsie, I love you, I always did.
Ever since we were young, ever since we were kids.
I never thought this day would arrive.
Kelsie, you are the reason why I am alive."

She looked him dead in the eyes with a perpetuating glare.
Their lips met for the first time right then and there.
Michael got rid of all of the pills.
Never again in his life would he be in the hospital.

Kelsie and Michael fell deeply in love.
It was a miracle sent from above.
He overcame everything, even the abuse.
Kelsie had healed every bruise.

She gave him something he never knew.
Kelsie had made all his dreams come true.
"Save me Kelsie, I am dying."
"No you're not, so quit lying!"

"You're healthy honey, a handsome healthy man.
You're amazing and wonderful, more than you understand."
"Kelsie, my love, you saved my life.
Kelsie will you be my wife?"

They were wed in their church, a few months after.
They cherished every dream, smile, increased the laughter.
Had three kids of their own, two girls and a boy.
They named them Michael, Kelsie, and Joy.

Michael told the story of how he survived.
Kelsie told the story of how Michael changed her life.
Their children told the story of true love forever.
The family told the story of their great endeavors.

Michael never forgot all the words he adored.
"Michael!!! It's you I'm living for."
Kelsie cherished the words that set her free,
"I'm dying, Save me Kelsie."

Michael saved Kelsie, Kelsie saved Michael.
Together they created two miracles.
They fell in love, saved a life.
They died together husband and wife.

And at the funeral, the children said,
"They vowed to stay together until they were dead.
They died together in a car crash.
We love them dearly and love the ash."

"We miss them every day and every second that goes by.
There isn't one instant where we don't break down and cry.
But we love you mom, we love you dad.
We will forever retell the story you had."?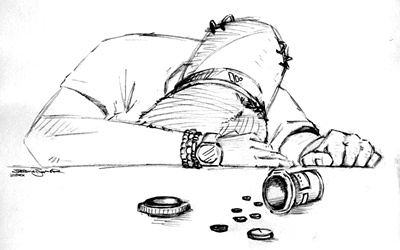 © Jeremy B., Austin, TX