Mirrors in this place
April 6, 2013
A looming monster cascades in the distance.
Its eyes, squinting in the sunlight,
just peaking over the horizon.
Innocent, but sure to cause a fright.


Once inside all seems perfectly fine,
Clean halls and decorated walls,
Papers, desks and chairs carefully in line.
But observe the creatures lurking inside
They'll make you scatter, make you hide
Make you wish you weren't even alive

Most are oblivious to the people in this place,
But I see the problems with this human race.
I saw it first above the bathroom sink.
It stole me of myself,
And left me with something else.

The light reflects off the bathroom stall,
And suddenly I see things that weren't there before.
My nose is too long and my eyes, too small
The face reflected stands beet red.
When I've seen enough, mind sore,
I groan and plead for some kind of cure.
I know people have seen their faults,
And they try to cover them however they can.
With paint on their face and popular brands,
Eyebrows painfully plucked, bodies worked to perfection.
I've seen it happen, witnessed it true.
Can't you find the problems in you?

No one else may see it but I find it all around
Soon it's not just yourself that's unperfected,
But all the people that surround you.
Their flaws are picked apart and dissected.
Given a glance, looked up and down,
Then tossed to the side, unaccepted.

So what do you do? You blend.
You copy the person beside you,
Just to hide you.
You want to fit in, want everyone's approval,
You long to be thought of,
talked, wished, dreamed, about.

But when you have finally accomplished all this,
And you take a good look around,
You panic, knowing your nowhere to be found.
In the mirror, stands not even a being,
But a reflection of something else.
Something that is not at all itself.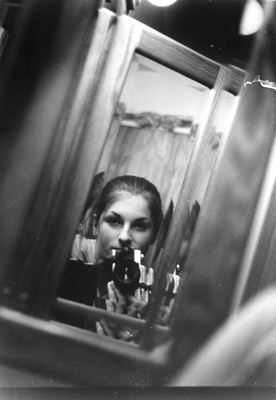 © Lindsey D., Marblehead, MA