Recreating the Senses
March 28, 2013
The white is a surprise against my skin.

I push my hand deeper, farther,

Where the cold electrocutes the veins.

I watch as the crystals seep into the ageless lines on my thumb;

I count ten before the rest blend together.

They make one canvas of twirling lines,

Where they dance to the movements of my body,

The way I step to the front

And the way I step to the back.

I kneel until the white soaks through the denim.

I watch, and wait.

For what, I do not know.

But a few years later, I can see a splash of green

In the world of white.

It waves to me, and calls my name.

I would go to it, but my legs are frozen in place.

Another couple of years, and the green blends with yellow.

Then blue.

And finally pink.

The leaves reach out to my shriveled hand;

The green trails up each finger,

While the yellow swirls around my knuckles.

The blue soaks the veins,

And the pink caresses my palm with a warmth

I have not known for a century.

The colors blend together,

And slowly add life to the blank scene

Until I can see again.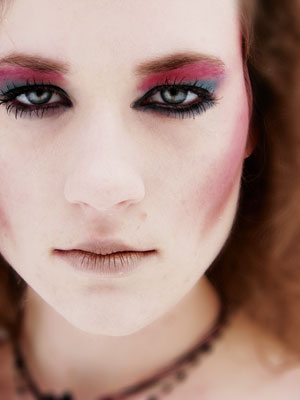 © Elizabeth H., San Bernardino, CA