Never Again
February 27, 2013
I lay in bed,
In wait,
For your sweet, goodnight
Kiss.

That now I know,
Will never come.

My eyelids drop,
As they kiss the edge
Of sleep.
I battle, to stay conscious,
Still craving the
Touch
Of your lips to my forehead.

I only know I've
Fallen,

Into the abyss
Of sleep,
When she fights,
To pull me out of the
Deepening fog,
That comes with the briefness
Of temporary
Death.

She is the messenger,
The one who
Tells me,
That I will never again
Feel your soft
Warmth.

My eyelids,
Instead of bringing sleep
Once more,
Bring the trickle of wetness,
While a strangled sob
Escapes
From my lips,
As the realization,
That you will
Never Again

Hold me

In your arms,
Weak with illness,
Like a rush of water,
Rains down on me.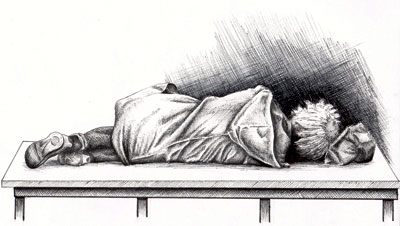 © Devin N., Sherrills Ford, NC