wanderlust
February 6, 2013
"You inherited the wanderlust
that my father gave to me; an incurable disease
but a lovely one."

On the drive home
with my family and the wide world in the old white Ford Explorer,
shoulder to shoulder. Talking about our glory days,
when my mother and sisters and I would run around
free and perfect and poor
but alive,
playing loud music and driving fast
and laughing.
Talking about our dreams,
and it's time for another road trip:
time
to get caught in another tornado,
to be the only humans on Earth at three am driving through Nowhere, New Mexico
to see another Bigfoot and fields of everything and strangers
time for the tire to blow out on the border,
to eat fried potatoes every night straight from the campfire and never get sick of it
to listen to the same five CDs for three years until they're burned into our brilliant neurons forever,
to celebrate the Fourth of July in Canada
to skip school to drive to Anchorage and sleep in the car on top of Blueberry Hill
to love Seattle and the coast and the desert and Padre Island and everything on the way…
Talking on this drive,
fast approaching my mother's husband and our ill-fitting permanence,
the concrete stuck fast in the ground and the snow
but above us
before us
and slightly to the east,
Orion twinkles
asking for our wanderlust
and our togetherness
again.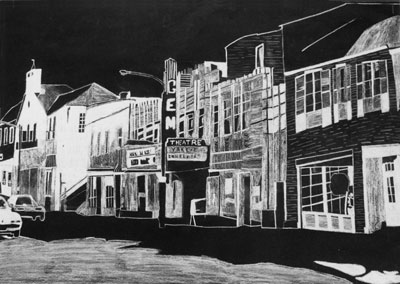 © Chelsea P., Kannapolis, NC