A Short Story of a Teenage Writer
February 7, 2013
She writes her life across blue lines,
On restaurant napkins,
And corners of her papers.
Little pieces of her soul
Chicken-scratched into the sand.

She tosses and turns to write what's on her mind;
Deep in the corners of her closet-
Filed in between the Boogeyman and the monsters.
(But who's to say they're not all the same?)

She edits and rereads,
Self-doubt and loathe filling her eyes
From the pages of her life-
A hole she's dug she can't quite climb out of.

Secret muses make their way to center page
In the middle of her Quadratic Solutions and
Atomic Theories,
Staying hidden enough to be hated
By her eyes only.

As her life moves on
The pages become fuller and darker:
Abhorrence at its best.

Her hand shakes with ire and woe.
Her calligraphy a bit too hard
For such a tenderfoot.

She paces the streets,
Her mind oscillating,
Her thoughts becoming as careless
As her room has become.

She doesn't think to look both ways
Before she throws her notebook
Into impeding traffic
And watch as the pages flutter away.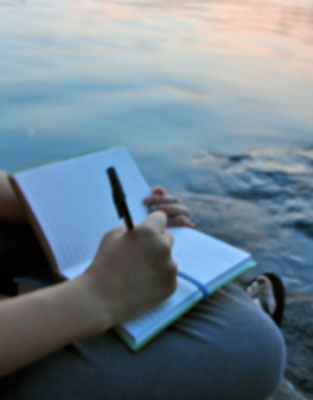 © Grace K., Port Washington, NY