The Evolution of a Backyard
January 30, 2013
I moved here at just eight years old,
The beginning of my life's plot,
But now I'm older, a young adult,
And I've really changed a lot.
I came here when I was just a kid,
I could barely spell my name,
And even though I'm smarter now,
The memories stay the same.
I remember when this house was just
A big hole in the ground.
I remember when the prairie grasses
Were all that created sounds.
I remember hiking in the woods
And over hill tops too.
We planted seeds in a garden,
I remember we watched as they grew.
We played sports in the dirt
And raced to touch the shore
Of the pond, for all we knew,
Our lives meant nothing more.
I remember the day the big men came
And dug another hole,
From that moment on, everyday
I got a little more old.
Life was no longer a childish game,
It was instead a test
To see who could build the most,
And who could do it best.
Before I could say a thing,
I was surrounded left and right.
I couldn't play, I couldn't race
This new world blocked my sights.
I looked out every single day
And studied this changing view,
Then I looked inside and saw
That I was changing too.
I was no longer the joyous child
Who ran around the lawn,
Who chased around the lightning bugs,
And skated on the pond.
I was instead a part of the test
That life turned out to be
I was filled with nostalgia,
And I wanted to be freed.
I wanted to go back to when
This spot belonged to me,
Before my neighbors' roofs combined
To form a canopy.

Back to when it was just the forest,
The swamp, the lake, and I,
Back to when I had dreams
And thought that pigs could fly.
Sometimes I wish that I could visit
This very simple time,
When the whole world wasn't yours
And the whole world wasn't mine.
I wish that I could say this spot
Will return to normal one day,
That it will look how it did,
And we'll all have different ways.
But this is how it is for now,
that's what I've come to see,
but if you look hard enough,
you can still see its utter beauty.
So when one starts to speak of time
And where I've spent a lot,
I would respond by saying to you,
"In this very spot".
And although it's changed in many ways,
The dirt, the grass, the view,
It hasn't changed as much as I,
That fact, my friend, is true.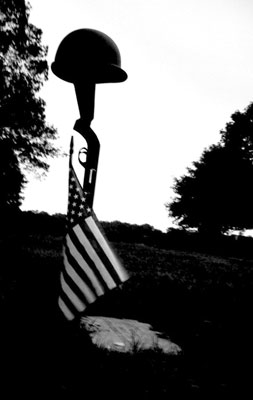 © Kristine B., Setauket, NY