The Day I Lucked Out
January 29, 2013
I hike
through the woods of Arrowhead,
heading back to my campsite
after another day of merit badge classes.
The trees bend and rustle in the wind.
Fresh air fills my lungs.
I reach an old
wooden bridge
that crosses a small trench
of rocks and leaves.
I turn to my left and see
a mother and her young doe.
They both have deep black eyes,
and a matching coat
of light brown and white.
They look at me with curiosity.
I look at them with fear.
I was to scared to move.
The young doe slowly approaches me.
Her hooves crack the leaves on the ground.
The mother deer watches
as her baby approaches a stranger.
My heart begins to pound.
"No! Go back go back go back!"
I say in my mind.
I know that if I touch the deer
I will get trampled by the mother.
The young doe is one step away from me
And she turns away
to return to her mother.
I take a deep breath
and slowly continue on the trail
not taking my eyes off of the deer.
It's a shame I couldn't get a picture.
But I will always have the memory
of the day I lucked out.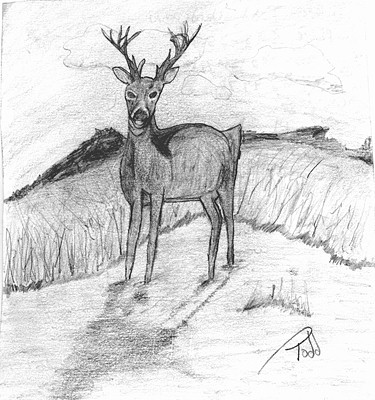 © Todd V., Neoga, IL