it is a night for running away, my friend
January 28, 2013
It is a night for running away, my friend-
there are kiwis in the icebox already
in a little paper bag, five waiting
to be divided unevenly between the two of us
listen:
we are hungry and young and for one breath I'm begging you,
I don't want to have to think anymore, I want to be wild
before I grow up and join the jungle. Let me go,
let me set out tonight, barefooted,
let me cross the clover
and hitchhike all the way to your window.
We've got time; the night is still blue, there are no stars to catch us
smiling tonight. Let me convince you.
listen:
I know I don't know you all that well, however,
the time we have spent together
watching you unabashed from the beginning, boldly
touching you with famished eyes, your face, your planes, your
command of the space surrounding
you and your joy- green joy, blue joy, the real kind,
the kind that sings-
the absolute joy you exude makes me understand
how far away from here I could be.
I'm not asking for paradise but you have your license now and
we could go anywhere.
A full tank will get us to the city
an airplane after that… we wouldn't be the first
or the first to make it
listen:
we'll rough it somewhere out of state
Canada or Washington or past that
alone in the wide world to make our noise
and to make our peace.
After we get to wherever we're running to I promise
I'll write my parents that I'll be okay.
I'm not being rash I'm just tired
of being tired; I want to wake up
with you. Feel your skin
in the sunlight or the overcast night
to wild strawberries or bitter liquor, earthquakes,
newsprint or music or lilac bushes, doesn't matter
what fills our life and times
long as they are full, and you
in the park standing next to me
unknowingly protecting me
from twelve thousand years of
protection-
I'm sick of knowing what's around the bend, thus I propose
bending everything
listen:
I am projecting myself,
wide feet you might love one day on the pavement
past my lawn. Smelling the ocean, nighttime summertime
trees rustle and I'll walk until a car passes and turns around for me.
When I finally reach your house I'll be tired and the
sun will be coming but it doesn't matter,
I have time time time.
Pack your socks and your whiskey;
I'll have brought the kiwis, we won't need much else.
And the peachlight, thousand-cups-of-coffee, first sex elation
of pulling out of your driveway in an uninsured
car, feet on the dashboard, an education in jazz
unfolding through the stereo as you press a hand to my back
and say those words

here we go

will finally fill me up, foot to flesh to finger.
listen:

it is a night for running away, my friend.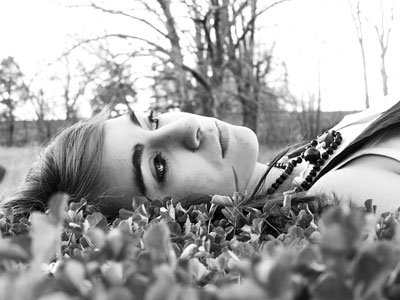 © Jasmine R., Bourbon, MI