Feeling Running
January 26, 2013
Standing in a crowd;
A lot of people.
I hear the shot,
Start.
My heart jumps.
My heart is pounding.
Waiting for the crowd to move.
Standing on my toes,
Anxious.
Watching the elites sprint off.
The crowd starts moving,
Breathing heavily.
Moving feet,
Sounds like a stampede.
Left, right,
Left, right…
Then, the ground rises underneath me.
An uphill.
It seems to be never ending.
Lifting my legs feels like lifting a ton.
Torture.
My legs feel like fire.
Finally,
Going downhill.
Accelerating.
The wind blows on my hot face.
It's cool.
I'm passing people.
Running so fast,
My legs can't keep up.
Running so fast,
I can take off and fly.
It gets hotter.
The sun beats down on my face.
It's humid.
Squinting from the sun,
And,
The sweat that drips down my face.
This is dreadful…
I see a blurry sign.
It starts to clear up.
It reads,
Mile 3
Only a tenth of a mile left!
The dreadful torture,
Has lasted a long time,
But the race is almost over…
Go!
My last bit of energy,
I push my burning legs.
Like a machine,
I power up.
Sprinting!
I feel nothing,
No pain.
There is determination.
I pass people,
Zombies,
Drooling all over their red faces.
I see the banner:
F I N I S H
I run to the beat of my racing heart.
I see people cheer for me,
But I can't hear them.
I feel the thick cord under my foot.
I have finished.
My head spins.
A person hands me water.
I drink through my gasps for air.
The sound comes back to me.
I hear music, clapping, cheering.
I smile.
I feel amazing.
I watch others pass the finish line.
Feeling like a winner,
Even though I'm far from it compared to the top tree.
It's only eight in the morning,
Some people are still sleeping.
I'm a winner.
I already accomplished something.
Feeling running.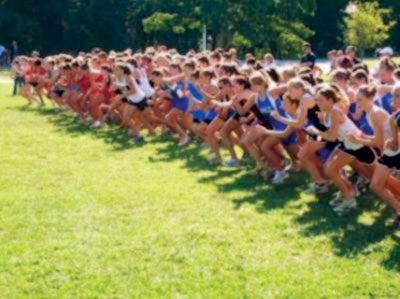 © Ashley R., Charlotte, NC