In Circles
December 12, 2012
I remember when we danced,
We danced with no music playing.
Your velvet touch on my waist,
Your gentle grip of my hand -
When my feelings were all in one,
You spun me round in circles.
I turned to look you in the eye,
Exchanging passionate breaths,
Your skin was against mine.
That moment was as intense as if
Our hearts beat as one.

I remember when we danced,
We were just a kiss away.
Our lips almost touching,
Our senses electrified,
I looked into your bright eyes -
My anxiety, sorrow and fear -
All gone.
I looked deeper and found
The pure soul of an angel,
Allowing it to take me to eternity.

Those three years,
From strangers to best friends;
From best friends to lovers;
From lovers to strangers again,
You had me spun round in circles
Like how we used to dance.
I embraced all of you and I,
For it is the memory I hold on to -
We danced with no music playing.

It has been a Winter away
Since we last talked;
Your voice still echoes in my head -
The way you said "I promise",
The way you said "I love you" -
Yet to me, they are all blues now.
Even the way we danced with no music
Seems like blues we were dancing to.

Last night in my dreams, I saw us
Dancing again to no music
But only to our giggles, our sobs.
I woke up alone today, dancing along
To our laughter, our cries,
Knowing that you and I
Only live in my memories.

I thought of you as I danced alone.
Your touch, your scent, you -
It seemed just like yesterday.
Your eyes, your smile, you -
It was just a kiss away.
What tore us apart?

I looked through my tears
To the old, worn floor.
I remember these kitchen tiles
That we danced on.
I swear we were the happiest.

A year has gone by,
Isn't it crazy how fast that time passes?
We change like seasons do
But our dance still stays the same.

A year from then, I have moved on
And so have you.
We dance to our own music now.

I was dancing the Waltz today with him.
He spun me round and round and round.

In circles.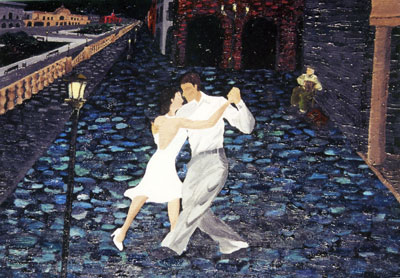 © Elizabeth M., Kannapolis, NC