My Room
November 28, 2012
Finally home after a long day,
I reach the pseudo wood door to my bedroom.

Oh, look.
There's the dent made by my evil little sister
After she swung a broom at my head.

I open the door,
Turn on the lights,
Then watch as my room is finally bright enough to see in.
Bright enough to see the beach blue and white of my walls.
Although,
I guess that's normal when your room is half underground.

I stretch as I walk in,
Banging my hands on the hanging light in my room.

I take off my coat,
And fling it at one of my closet's folding doors.
It lands in my neatly piled dirty clothes.
I try again.
It lands perfectly on the corner.
Maybe one day I'll clean my closet.

I move over to my twin-sized bed,
Plop down my backpack,
And pull the ever-closed vertical blinds from my window.
I'm eye level with a spider hanging just outside the glass.
Okay, moving on.

I cross to my dresser,
Conveniently out of the way in an alcove,
Hidden behind white, canvas like curtains.
There's the handle I broke off.
I open the second drawer and rummage through the contents.
After a minute I finally remember.
I don't put my clothes in my dresser.
I put them in the plastic laundry hamper at the end of my bed.

I put on my pj pants,
Go back to my bed,
Flop down,
And hit my head on the lilac painted head board.
I take off my glasses,
Add them to the hidden object scene covering my bedside table,
Then look up.
There's my dragon,
Treading air on the top of my ceiling.

I look to my left,
At my favorite item in my room.
A framed, 1000 piece butterfly puzzle.
Each butterfly a different color,
Creating a beautiful rainbow that seems to flutter.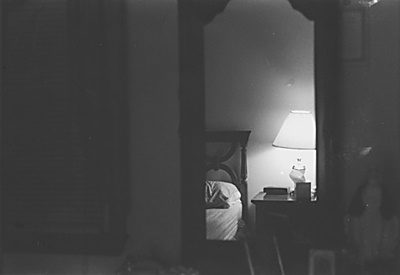 © Stefanie G., Norwalk, CT