generation gap
MAG
November 25, 2012
Exhaling smoke and gas giants
in the hopes of learning something about life
is part of the reign of terror,
the generational gap
our parents are nothing more
than placeholders for dollars
and cents
while we lose our senses
puffing away behind the back walls of
schools and stuffing ourselves
with soup that leaves yellow highlighter
marks on the side of the styrofoam
cup it comes in.
Our hearts are merely pixilated
images of laughing faces in different
shades of red thrown together,
8-bit lips fragmented into
different RGB color bites
that snip snap
at every little mistake,
at every little heart that comes near our own
tell me, is it any wonder we're f**ked up?
We swallow promises of "everyone is special,"
these Rice Krispie-lined clouds
of marshmallow-fluff propaganda,
until we figure out that we're all
equally bland and boring sardines and
tuna fish, limp in hissing oil.
Freeze us out once
we'll try to make you burn for the
rest of eternity.
Hey, baby, don't cry.
At least we'll meet in hell.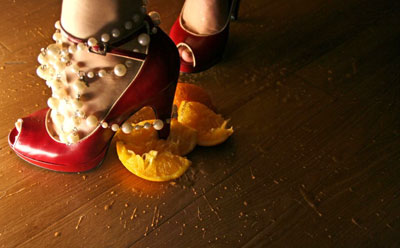 © Amber L., Carpinteria, CA