Jenniferland
October 27, 2012
Suffocated by sweat-soaked, blanched sheets
She's buried deep in hazy Ambien sleep
Red ants crawl around on her fingers and nibble, nibble, nibble at her dirty, split nails
Sharppangsting, pounding adrenaline
Thin crackled bleeding lips whisper
To no one
To everyone
Oh sorry she said,
It must be the pretty little pill singing

Her angstymoodytamponteenagerhairdyelipglosscellphone life stinks so bad
Morning mouth sour milk baby burp
In a passionate kiss from my mouth to hers
Get her away please
Get her away from my baby

Her shattered plastic shell oozes crimson dull glitter mire
My baby is trapped, squirming in the viscid ooze
She tries to pick it off her smooth, fresh, peachy skin
Her scabbed, blotchy, greasy, dry, pasty skin
It's stuck in her teeth
In her hair
Under her nails
In between her toes

Blinksweatypanic
Kicking and screaming
She's tangled in her sheets
Itchy hot moist under her arms
The sludge sucks her in
Towards the glowing shining frostbite frozen sugar-water dream

Two fingers scratch down her puffy, red throat
Because she doesn't need it anyway
But it's all right
She can stay home today

A little saccharine-sweet remedy will do the trick
Candy-coated throat, my baby
She can have more
A little loopy isn't a lot
A little funny in the tummy
Too much is good for you, I promise

Bitter hot chocolate girl burns in my glassy eyes
Spills on my sheets
Burns my tongue
Stains my teeth
Stays stickycrusty on my chin
I feel heavy
A little cool air would be nice

My baby, don't come with me, please
Mommy needs some space

Too late

I run past down the barren, grey sidewalk
Every house is the same, every whining scratch and throb in my anemic chest
My bare feet sting from the salt and snow
She lays face down on the floor
I grab her in my arms and hold her to my chest

Her heart bursts in my palm
Warm, cozy, bright red trickles down my forearm
Tickles my elbow
Drips on to my yellowed silk nightie

I try to sew her back
But I can't see clear
And I manage to thread the needle
So in go thick, messy, stiff, bigblack stitches
A little dirt
No glimmer, no shine
Bye bye, Wintergirls

? ? ? ? ? ? ? ? ? ? ? ? ? ? ? ? ? ? ? ? ? ? ? ? ? ? ? ? ? ? ? ?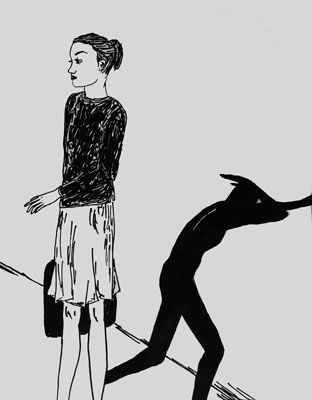 © Natalie D., Ames, IA