Eve's Fall
October 28, 2012
There, I see it-
Hanging ripe and lurid as a tongue,
Just above my fingertips.

I want it.

All my nerves breathe with indecision,
"Don't take it."
"Take it."

My hair is a waterfall across the planes of my back,
The man in the moon kissing faultlines down my skin,
I sing to the stars with eyes shut tight to
Distract myself.

I bury my toes in the sleepy earth,
Yet new and fresh as I, still
Uncorrupted.

The Snake is heavy around my wrists,
Across my breasts,
His tongue about my ear.


I hold his gaze,
Eyes black and deep as
Wells.

"Trust me."
They plead.

With a kiss to the scales, I breathe
And jump, and then
It is mine; heavy as sin
In my palms.

I blush as deeply as the fruit,
Feel the blood singing in my veins,
I am enthralled, I am
Terrified.

The bite is full.

Teeth break skin,
Honey sweet and
Delicate.

And then, I feel-
The very wind has become too cold;
Too private, and
The moon is staring at me in all of my
Indecency.

Tears in my eyes wander down,
Forbidden- I can feel the shame pinning me down
Sitting in my lap
Heavy as a child.

But there
You stand.

I offer you the apple;
An apology.

You eat, with
Tears on your face reflecting
My own.

You look at me with new eyes,
Drink in my skin with
Fire in your gaze.

I look away,
A fire of my own burning in my cheeks,
Painting them a bawdy
Salmon pink.

"What have we done?"
You ask me in a whisper that cracks
Like a plate.

But I do not answer, I am
Too overcome with
Understanding- suddenly,

I am aware.

Aware of the cells on my left little toe, aware
Of the pain of the rabbit that was
My dinner.

I am aware of the way the air holds the water
That will collect, and cry
Upon the earth;
It will stick my hair to my
Face.

I can see that you feel it,
Too.

My fingers itch-
Slowly, I let them find your jawline,
Discovering.

Your hand covers mine and
It is warm.

You bring each of your fingers to your lips, but
Still they itch.

Your eyes paint fire on my body,
Stirring something that has never stirred
Before;
I know that I am
Naked.

Together, we watch you Grow-
The air stops breathing,
I can not look away
From this, so carnal and
Uncontained.

Your breath is shallow beneath my
Sticky palm.

You break away,
Afraid.

Muscles wound tight as a bow,
You leave my fingers grabbing at
The wind.

You rip the branches of
My olive bush, to hide away the evidence
Of my stolen fruit.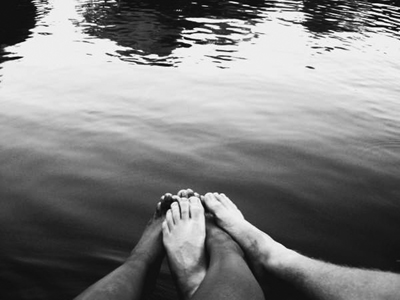 © Michelle W., Ada, MI