What of Love?
October 25, 2012
Years of longing for love,
Days of waiting to be wanted,
Hours of crying over cruelty.

Let it be known how I would suffer
Tenfold that living hell to be with him,
Forever bonded, in the way we are.

But what of love?
He is bold in his lust
And consumed by infatuation.

"Perfect," he calls me.
I laugh at the absurdity,
Yet marvel at his sincerity.

Surely, I am not the only one who fell
At the first kiss on the forehead,
Lying in his arms that bitter, fall night.

Showers of materialistic affection
Are so generous and appreciated,
But unable to portray the emotion I seek within.

My doubt grows into despair.
If only his feelings reflected my own.
I suppose I am not worthy.

His warm arms caress me like his cotton blanket.
His soft voice assures me of his care.
What a shame it is not love.

He gently kisses my lips with a subtle intensity,
Mimicking deep adoration.
Oh, how I need it to be real!
?
Then his tough hand strokes my flushed cheek.
He leans in, our heads together, breathing in this moment.
Suddenly he whispers,

"I love you."
I pull away and our eyes meet,
Truly for the first time.

Could it be so?
At last, the forever anticipated confession,
From the one who may be the one?

These words evade me (such a rarity),
But thoughts of glee run endless.
Here now, the kiss.

Oh how no joy had ever been so fierce,
No elation so overwhelming,
Because no dream of mine had ever been so powerful.

This kiss is precious
And will ever be cherished in memory.
Just like him, and everything he is to me.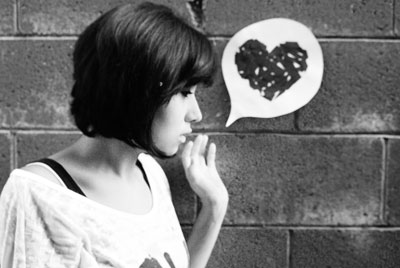 © Michelle B., West Covina, CA