A Poisoned Heart
October 17, 2012
The attitude of the world poisons my heart.
Critical of my every move.
I strive harder for other's approval, in contrast to my own approval.
Why is society driving me off of a cliff; an unbalanced cliff - leaning towards my end - creating a longer fall.
When others strike me on-top of my roof; making me feel shorter than i really am. That rages me.
I resulted in music - but the beats traveled elsewhere.
I resulted in violence - but my knuckles became numb.
Lastly, I ignored the burning feeling. That just made it worst.
Time passed. The air got dryer. My eyes unlocked. My ears unfolded. It was the ones I hung around.
Bad association was the problem.
That was the main ingredient in the poison corrupting my heart.
I stopped hanging with those wicked, judgmental, evil "friends".
Suddenly, I felt a beautiful blue wave wash away all my scars.
I found the cure to that poison.
Be yourself. And YOU won't become effected; you won't become poisoned as I was.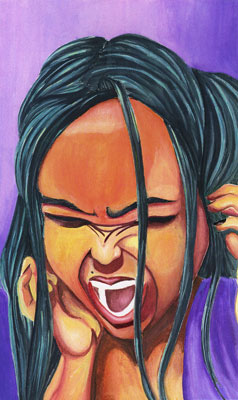 © Kriztille J., Briarwood, NY