The Cold
October 9, 2012
Cold
The cold wind blew.
The cold snow fell,
in huge white flakes.
Frost bitten air surrounded me,
causing my body to shiver.
Shiver all over.

My little arm hairs stood straight,
like solders ready to fight.
Starting at my toes and working its way up.
My legs, my arm, my nose,
every thing froze.
The cold is too much to bear.
Looking into the woods,
I wondered if I was ever again going to
see home.

My fingers are turning the strangest shade of blue.
The cold is taking over my whole body.
I'm unable to speak.
I'm unable to move.
I'm unable to think.
The woods are closing in around me.
Thick, dark, scary,
they howled with the
horrifying sound of silence.

The cold is unreal.
But at the same time
the most real thing I have ever felt
My hands are deep in my pockets.
I grasp tightly,
to the empty gum wrapper,
shoved in the corner.
Hoping to escape,
attempting to hid,
from this cold.
Terrified, nervous, and lost,
I will soon be frozen completely.
From the cold.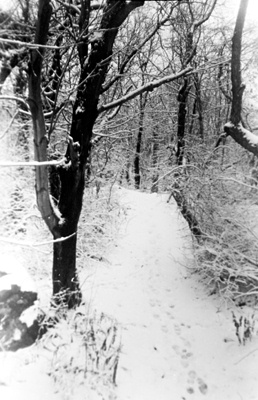 © Kelley C., Marblehead, MA