Exclusive To It's Time And Place
October 1, 2012
The car door jerks open and I'm greeted with the good ol' country mist.
The clear, beautiful, blue, sky shines above me and fragrances the flowers weep soar through the wind.
I look out towards the field and watch the animals roam, the cool wind having no affect on their strong, large bodies.
I drop my luggage on the ground and walk past the old, withered house to the pond.
I dip my toes into the freezing river water and sit back on the docks thinking about a younger me.
The me that used to eat candy every monday afternoon on this dock, so I'd have sweet week.
The me that couldn't stand boys, that would climb up a tree in my pink, cotton dress when they came to fish and my spot was no longer just my own.
The me that would raise baby cows, made them my pride and joy.
But that me is gone.
It's exclusive to it's time and place.
I'm older now, I dream of Paris, marriage, a glamorous life.
But for a split second in this old creek, I felt reborn into the old me.
And I think I liked it.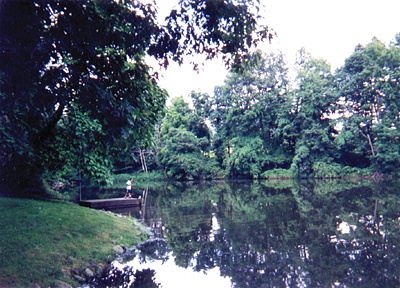 © Amber C., Fair Oaks, VA