Running to Oblivion
MAG
September 26, 2012
Five kilometers used to be a long way to run,
Equal in distance to five thousand meters,
And countless laps around an imposing circumference.
I remember the first time the gun went off.
I stood on the painted starting line of the course.
Without any wasted time,
I began on my quest.
Sliding up and down slithering sloping slants,
Chasing girls I would never meet again.
Running numb,
With one million feet crashing down rocky terrains
And into crystal ravines next to me.
Racing in a disheveled pack,
And my goal was simply this:
To not stop and walk.

I only yearn for one thing,
As I wander onward,
With slick sweat flowing freely from every pore,
Clouding my eyes to the course,
But there is always a person around.
Even after many twists and turns,
Roaming miles into the green hills,
In front of me a girl with pigtails strides
Seemingly unaware of my stalking expertise.
I resolve to catch her up the next hill,
And to not let anyone else pass me as we come to the final stretch.
My shoulder is cramped,
And my legs are lazy tortoises,
Raising the shell of my body high above the ground,
Then collapsing against the moist earth
As I finish my last great strides.
Sprawled out on the ground,
All I hope for now
Is what I hoped for before.
A swig of water is all it takes to re-energize me.
I want to run on to wherever forever is.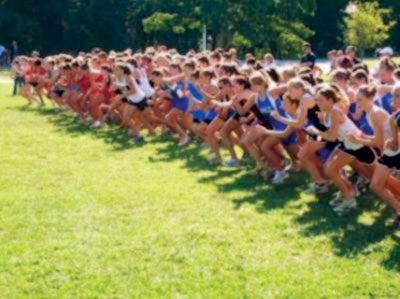 © Ashley R., Charlotte, NC