Simple Nostalgia
September 11, 2012
The efflorescent air encircled
Our skulls, embedding itself into
The very ditches of our mind,
Forever writing memories
Of when the air was redolent with
The roses of your eye.

We danced in the moonlight
And composed symphonies,
Articulating our fingers to match
The rhythm of their typewriters.
The arrangement created a web
For us to entangle ourselves in.

As we wrapped strands quickly
About our fluttering eyelids,
The crowd cheered
When we paraded the streets in
Our new fashion, leaving behind
The vestiges of our promises.

We drank each other until
The sea became overflown,
Sending ripples beyond the mountains.
Our dalliance with poison
Led them to think that the clouds
Expanded into our fingertips.

We would remember
The floor plans of dreams and bone
And quickly sell the lot before
We grew to know our neighbors too well.
Perhaps one day we would gather together
The abundant stars and kindle a flame.

Though we had created the trees,
They refused to cradle us
And we decided to swing upon branches.
We'd shield them with our teeth
From the children below
And spread our arms into the sky.

You became the eve of my day's light,
Opened to the clouds and refracted
Through the opaque layers
That would bleed words into our ears,
Forever to be changed by our
Past and pending lifestyles.

We would glide around the dreams of past
And share them with the children
Who have eyes like diamonds.
They would spin the world about
Like an hourglass
And tell us that lying is the only sin.

We'd paint them the color of sunsets.
The ones we'd always see
Over the cities we'd never go to.
And you would always tell me
That every choice is a decision
And decisions to be made are a long shot.

We would run away together
To get the best of our blunders
Before they offered us their finest wine.
And you took me into your wings
Feathers of majestic grace and beauty
Dancing until the early dawn.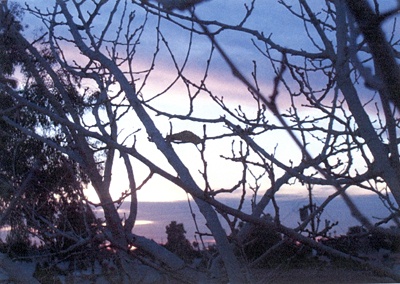 © Delia R., Phoenix, AZ