A Very True Description of My Life in Honors 9
August 28, 2012
As I sit here,
I drown in the lack of intelligence-ness.
My arms cling for anything to grasp—
the hand of a semi-colon,
the knob of a dieresis door.
slowly down i crash.
others ignorant to the things
they are not truly learning.
my poetical mind is slowly dying.
i search for a soft place to land—
a lump of soggy, poorly graded papers even.
i feel my intelligence faltering,
my old habits slowly—no, quickly—
slipping a way like a Severus Snake.
i used to no the name of that
stinkin' whale in Moby Dick
do u remember the wurd four
all doze other bad words?
you-fitz. . . you-stink?
my honers world is missing.
dissapeering into a wurld of durknis.
pleez save me—
Id luv uz 4evr.


help me.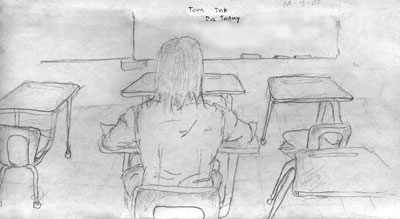 © Christopher M., Dededo, GU