Changing Seasons
August 27, 2012
I lie down on the summer grass and kindly close my eyes;
The aroma of orchids and daisies fill my lungs.
Smiling up at the clear azure sky,
I am listening to a lullaby that plays up inside the sweet soft sky, humming gently.
Beneath my fingers, I tenderly stroke the meadow lawn.
The clouds are fluffy and I enjoy finding shapes in them.
I inhale the smell of roses around me.
My heart flies far above the ground and sings a song only my heart can hear!
Pretty soon the stars start to fill the sky, lighting it up with tremendous life.
The twilight is beyond imagination and soon enough it is nightfall.
It's midnight and the summer air is still sweet as can be.
The harmony of the night song has lifted my spirits so high,
I can almost touch the midnight sky.
Water begins to fall and I look up into the sky once more,
I dance freely under the moon.
Circling my hands so high and laughing so lovely against the summer rain.
But the summer rain seems to be an illusion and my imagination has run off.
I open my eyes and nearly cry at what I am truly seeing; summer has run away.
I am sitting on the cold damp ground,
I am surrounded by hard leaves and cold grass that will stop growing soon.
The sky is plain and no longer stunning.
What is it about the cold that makes us want the hot?
What is it about the warmth that makes us want the cool?
I stand up, brush off leaves and start walking silently,
As a single, glistening tear falls to the ground.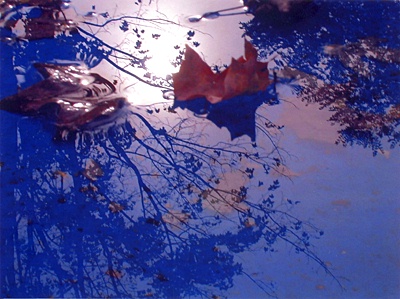 © Angela B., Holland Patent, N.Y.