Salt in my Wounds
August 19, 2012
Blood and skin underneath my nails
Stains the rag
Scratching away the contamination
Don't Touch
Literal or figurative?
You? Literal.
Me? Figurative.
Figuratively?
My heart has not been touched
or handled
or grazed against
Literally?
I'm scratching away the residue
There is a new layer beneath
Don't touch it
I'll scream
My skin lies red and raw
From someone rubbing salt into my wounds
As if I forgot they were there
Stinging
Burning
Scorched by my touch
Until the tears come
But what is this I am crying?
Not water
It evaporates on my cheeks
It's salt, my dear
And from my irritated skin comes tears
Clear, cool, and healing
But the salt, the salt
The mangled, ugly words
Sting my eyes
I can have a fresh layer of skin
The pain won't last forever
But what about my eyes
Leaking hurtful words
Who will attend to my burning eyes?
Will someone help me?
Wash away the pain!
Or will I slowly lose my sight...?
All my the one I love watches....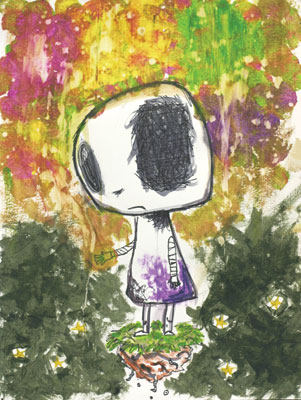 © Ashley W., Port Charlotte, FL