Self-Portrait Beneath Wall Street
August 20, 2012
I am waiting for my train
on a December evening. The light
at the end of the platform glows red.
The air smells of urine,
and old copper pennies,
not zinc.
My jacket is belted about my waist.
I am shoulders and hips,
all in black.

A train coasts into the station,
headed uptown.
It is across the tracks that I see him.
A muscled black boy.
But he is not black. He is
tan, or olive-skinned, or Arabic,
except for his hair, which is nappy,
like his mother's.
He told me, when I knew him.
It is covered by a knit hat,
pompom at the top.

He shakes hands
with other boys on the train
and steps onto the platform.
We are separated by a canyon
and two sheets of metal, and many panes
of glass, and a third rail.
We are separated
by three years of silence,
four years of acquaintance,
before that.

I want to call out
across the station, but I cannot
be heard over the sound,
train pulling away. His name is lost
to the rumble. I speak it to myself
and lose sight of his body
in a blur:
steel and glass,
daily commute.
Weeks pass.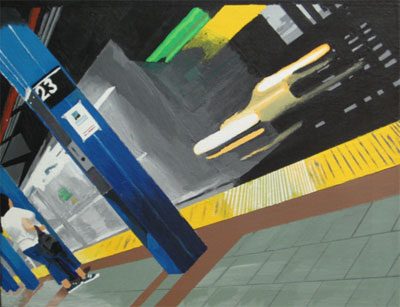 © Doug T., Pittsford, NY