I Found It
August 9, 2012
I've found it.
It took sixteen years, but I've finally found the thing that everyone dreams of, wishes of, hopes of.

It's not in the big houses,
The ones with basketball courts, movie theatres, and bowling alleys
Ten-car garages with a waterfront view.

It's not in the malls that hold endless shops,
Tank tops, jeans, handbags, and matching shoes
Make-up, jewelry, and
(Although, it can seem awfully close.)

It's not even in my daily gadgets,
My cellphone, my laptop, and my TV,
Even though I treat them like my own babies.

It's definitely not in any of those silly boys that I meet,
No matter how much they promise.
As good as a persuader as they are, it's never true.

It's not in the food that I eat,
The music that I listen to,
The movies that I watch,
Or the books that I read.

But rather, it's someplace else:

In my mother's overly aggressive nature,
Which is always ready for an argument or a fight,
Over the missing cent in the bill.

In my father's complete cluelessness,
Which completely tunes him out from the rest of the world,
And impossible to communicate any ideas through.

In my aunt's frustrating subservience,
Which is eager to please anyone, anytime, anyplace,
Even if it doesn't please herself.

In my grandfather's forgetfulness,
Which is a maddening experience,
To remind him where he placed his keys, his medications, and his wife.

In my best friend's conceited nature,
Which leads every topic, every conversation back to her problems and her issues,
An endless stream.

But regardless of all the imperfections and the exasperations,
I wouldn't want any of these people out of my life,
And suddenly, all the quotes, poems, songs make sense.

It took sixteen years as a daughter, a niece, a grandchild, a girlfriend, a friend, and a young woman,
It's the thing that everyone dreams of, wishes of, and hopes of,
I've finally found love.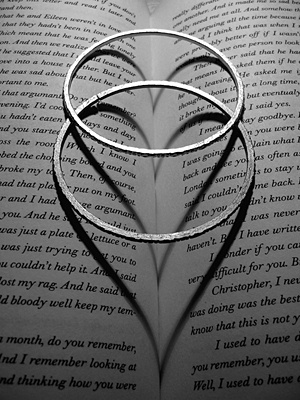 © Julia K., Old Tappan, NJ