That Feeling
August 8, 2012
I want that feeling.

That feeling that you get when you see someone and you stop breathing and you don't know when you'll be able to again.

That feeling they always warn you about. Because they think you'll prick your finger on the delicate rose and taste the bitter blood because that's how their feeling turned out a hundred years before.

But that won't happen to us, we say. Because that feeling can never die.

When you can tell that one person anything and you don't care that they'll judge you, or they'll love you in spite of it.

When it just feels so right being around them and you don't have to put on a show, you can just be you, not what you have been trying to be. That feeling when they still love you despite the fact that you're yourself. There's that moment when you can take off all of your makeup because you don't need to put a mask on for them and there's nothing more that you need to hide. They want you for who you are and you finally feel like you have a place to rest your head.

And they love it when you do that one thing.

That one thing that they can't put their finger on, but it sets you apart from everyone else.

You both know in that moment when you catch each other's eyes just for a second while blasting down the freeway, singing your favorite song and you don't know if anything will ever be so right or if anything will ever be as good as that again, and you don't want it to be, because in that moment, you float so high that you never want to come down, nor should you, because in that moment nothing bad will ever happen and nothing can go wrong.

And even when things go wrong, you will still have that person to stand beside you, put your arm around you when you're cold.

Pain and suffering are no match for you because you. It can creep and seep, but will never win, because that feeling that you have will always get the last word. You have that one person and whenever you look into your eyes that one moment will come around again and that flutter will still be there.

No matter what they do, or what happens or how much time passes it doesn't matter, they are that one person who you will be thinking of when you start to hum that one song you heard on the radio that one time.

And that's love.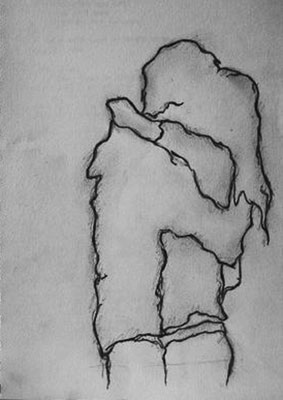 © Nicole B., Newcastle, WA