Your Lies
June 18, 2012
When I was young,
I watched the sky
To see the cosmos
As they slept at night.
One snowy winter evening,
You saw me staring at the sky.
Blistery cold and impatient,
You said:
Whatever you do, shoot for the moon.
If you miss, you'll land among the stars.
And so I stared at the sky, the black lagoon,
Thinking of that lie of ours.

When spring came,
I dreamt and shot for
The moon you told me of.
I leapt and missed, and
Because of you I was falling to,
Dashing towards,
Careening into the stars.
And all the time I
Saw the gleaming galleon,
Saw the man in the moon with his mocking face,
As he said:
Thank your lucky stars you're still alive,
For you could have faced dreadful treachery.
And so I flew into space with a gorgeous dive,
Dreaming of my purloined reverie.

Then one summer, at twilight,
Living among the fallen stars,
I saw my life passing me by,
Simply a flake of what it used to be.
All thanks to your advice,
Your smeared truth,
Your hypocrisy,
I gambled it all
And fell past my mark.
Broken, disheartened, I watched
As you said:
Old age and treachery will always overcome youth and skill.
One day you will be wise and thank me for what I said.
So I travel past the stars, my life turns into nil.
And I thank you one last time, the whisper in my head.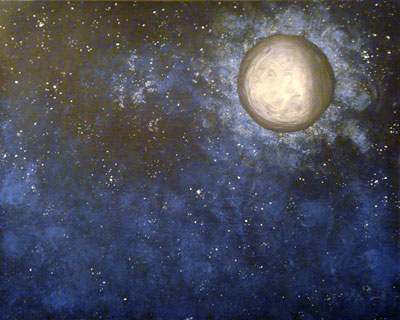 © Allison H., Vancouver, WA