When I Hold a Treasure of the Sea
June 26, 2012
In the folds of my palm,
Your size is delicate,
Fading like an ephemeral exhalation.
I want to pocket your organic wet,
Grey like the belly of a whale.
Or listen to the music of your silver,
Beautiful and gentle like a kiss.
You are mystery. You are secret.
Akin to the ivory horn,
But no-something daintier,
Perhaps the flutter of a unicorn lash?
Or a mermaid's seaweed blush,
Mirrored in a lustrous patina.
Your smooth alabaster rolls on any surface,
Slippery and energized,
You refuse to stand still.
Are you protesting or joyous?
No matter-you emit a soft patter of rain,
Heavier than drizzle, but pleasant enough.
Yet you sway in flagrant vulnerability.
I try to cover your aperture,
For I fear you will freeze.
Seek shelter in a shroud,
A predator will come,
To take advantage of the aura in which you hum.
Am I the predator?
Terrified,
I worry you will disappear,
And I squeeze you all the harder



Though you only become more lost
In the folds of my palm.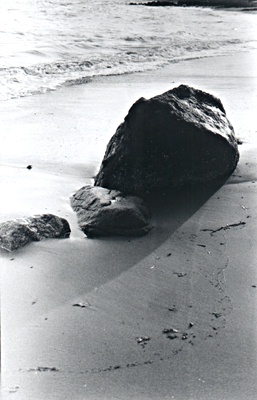 © Alexa R., Marblehead , MA