We Could Meet.
June 5, 2012
-I don't know You (yet)
But You could be lovely,
You could be better than those sugar-drenched dreams of mine,
Those iridescently lit dreams where we write each other's names in cement,
and watch the ground dry up with giggles and blushing and infinity.
You could be better than those singing boys I fawn over daily,
The boys who cover the perimeter of my lone room, – faces that have been heavily edited and gently airbrushed – faces in posters of boys that I could wish were You.
-You don't know me (yet),
and it will take an eternity of a long time,
for You to crack the bone of Me,
for You to decipher and comprehend my mashed up marrow,
and all the frayed and singed wires that follow after.
But You could be willing, couldn't You?
Because, I'd love to be chased – And You could learn that.
-We haven't absorbed each other (yet),
like the people in those overzealous romantic-comedies, where:
Boy-meets-Girl-meets-World-meets-Love;
we could have a whirlwind of a romantic montage.
-I can't (yet) hear Your voice,
and it makes me lonely.
But, I believe it will be as if an assemblage of harps and violins melded with the most wonderful of heavenly sounds – As if You poured Your soul into my ears with a certain effluence I could come to adore.
-I've never been in love,
unless this hobby of mine is considered –
this hobby of mine: I yearn for You, I write insignificant drabbles about You, I think and wonder about how insanity will combust once I am matched up with You.
You who I've never met.
You who I am bound to by the unsustainable and intangible laws of this Greater World.
-But You're out there, somewhere, and we are connected by a force that can never truly be known.
You're out there, under the same inconsistent sky as Me, breathing the same unfiltered air as Me – Living for Me.
-I don't know You, and You don't know Me.
But let's stay silly and unrestrained,
-Until our fateful meeting.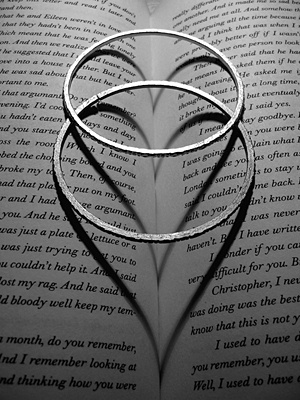 © Julia K., Old Tappan, NJ