In Between Innings
June 6, 2012
You have three seconds,
So you better make an impression.

I'm just laughing at my life.

While I sit on the bleachers; In between innings.

The sunlight falls on my face,
Just like a million baby kisses.

I have just enough strength left to pick up a knife,
I am too weak to reach for help or pick up a phone.

I am simply leaving; checking out for the day.
Maybe I will return..
I'm just adrift at sea.
The sea of my thoughts, but that's OK.

Someone get me out of here.

Because all of my bridges burned down.

Don't look down on me because I'm a cutter,
In a sense, that isn't fair.
What makes me so different?
I'm just like you.

You have no right.
I don't have any either.

Look me in the eyes not my wrists.

Don't think I'm not listening.
That's all I do.
At least I'm worth talking about, right?

It's human nature to judge.
You can't just breed it out.
The eye is trained to see "different."

Everyone wants something different.

I managed to box up all my memories for so long..
I hid them away in a corner of my mind,
But now they return.

Old habits die hard.

I'm just happy simply to be alive.

Everyday I wake up and think,
"Today I'm going to be happy."

Everyday I kneel and pray to God,
"Dear God, please let me be happy."

Everyday I look in the mirror and say,
"Please, girl. Let me be happy."

But when I lay down in bed at night,
I laugh at myself and all my stupidity.

Because when your sitting in the bleachers,
You can see yourself, and your mistakes.
And you think about all the things you should have said,
Or should have done.
And it just breaks my heart.

I'm just laughing at my life;
In between innings.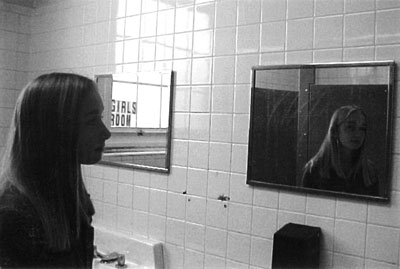 © Jill H., Pompton Plains, NJ