The Long Way Home
May 28, 2012
He went for a pound of wrapped beef
To simmer with an onion to eat
That night, when the clock's voice whispered its worries
A minute after reality, like she once kept it set
So she'd have a minute more to warm her hands and knit
the peach dishcloth that fluttered from the oven door
bearing much more
than the risky heat of kitchen pleasantries.

The coins fell heavy
As the wrapped red beef crinkled in his arm
Bleeding the scent of dinners without company, and the empty
Laughs of shadows on the street ice rinks below the French window
Where she once leaned to cry Bonsoir, les enfants!
holding a cigarette and a trembling glass of autumn wine
that caught the flaky snow.

He took the long way home that night
Around the black pond fringed with golden streaks
where the ducks had once pecked her crumbs and orange mittens,
as though longing for the sight of her palm lines and the futures
they had once told
to puppy-eyed schoolchildren
And the red beef was silent in the cold air,
Wet as a heart and still.

The record crackled in the living room corner under the chestnut
grandfather clock
and the meat crackled in its oil
On the quiet kitchen stove where she'd once hummed La Vie en Rose
while her mixing spoons danced like puppet lovers
And he watched the snow sleep on the old streets below
Peppering ghosts in trench coats
That tipped their hats politely at the empty French window and walked on
Smiling
Fading in the dusky sky
That night, when he took the long way home.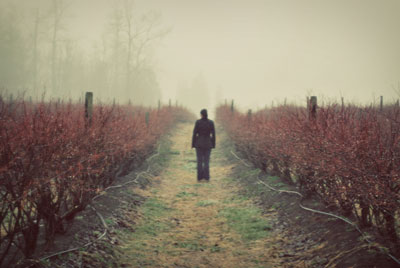 © Molly H., Lynden, WA