The Face of a Woman
May 30, 2012
Most will disagree with the idea to be proposed.
It is concluded that the face of a woman is delicate and sweet,
for she has nothing to hide.
Her lips are plump, her skin is sweet, and her eyes, gentle.
Acceptable and no need for question,
there is proof that such a judgment is false!
Rather innocent it is not,
for the face of a woman is not free.
Everything seemingly hidden is seen;
what was once concealed is exposed.
Search the creases on her face
and trace them to every hypocrite she has ever known.
They said they were in search of beauty,
not found in something painted on.
Such a lie is seen through his embrace,
as the sweep of his hand smudges her lips!
The lips, so creased, that speak without talking
tell the tale of every man she has ever feared.
Call into question this fear;
For it is not a fear of physical submission,
but it is the fear of restraining her heart from leaping.
The leaping, triggered by all emotion,
shapes the stages of her face that range
from that of an unknowing child to an incredulous participant
who has gained enough knowledge to understand life by its end.
As her eyes, no matter what shape or tint,
start to see and comprehend, and as her cheeks and lips
work in conjunction to frown or smile at life's happenings,
it is apparent that, in fact, the face of a woman
is an open storybook with some beginning and no end.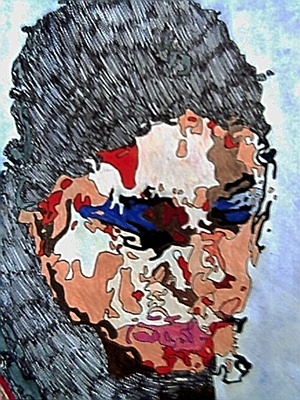 © Sarah A., Morristown, TN